Shortly after her older sister and brother began music lessons, my 3-year-old daughter asked when she can start guitar lessons. There's simply no written translation that does justice to her 3-year-old dialect. If only I had a sound byte to share.
Her dad and I told her she has to be 7 or 8 before she can take lessons. She knows we have a number of guitars in the house already and I know she's smart enough to challenge us and, I wouldn't be surprised, succeed at a quick melodic riff. But she didn't challenge us directly. She stood before us, looking down  at her hand——not so chubby anymore, I noticed——and popped out her thumb, index finger and middle finger. "One, two, free," she said. Then she looked up at us, grinning, and said, "EIGHT!"
My 6-year-old daughter asked me a few nights ago at what age is someone considered an adult. I wish I could remember her phrasing of this question. I told her 18. There is a high school student intern who works in her kindergarten classroom every day, Miss O. "Miss O is 18," she told me, assuredly. And I thought to myself, I met Miss O, and she's lovely. But she's not an adult. No way.
My son just celebrated his 8th birthday. He shares his birthday month with, among others in our family, a younger cousin, Sarah, GG and his great-grandmother (GG's mom). How absolutely amazing to have a birthday party with your vibrant great-grandmother. I sat in the room as she––my grandmother––opened her gifts, and her great-grandchildren all crowded around to see. I hope when B reaches adulthood he remembers this day, this moment. I don't expect him to dwell on it now. He's 8. It's all about the Legos and the bookstore gift certificates. But he is rich with family.
Our children want to grow up so fast. I want my 3-year-old, in particular, to slow down. She is so capable. So positive. So willing. She is my baby, my last. But of course, she wants to catch up with her older siblings whom she strives so hard to emulate.
I look at my 6-year-old pianist, artist,  dreamer. Her teeth falling out faster than I can keep up. I look at my 8-year-old drummer, book lover and recent master of the monkey bars. All I have to do is close my eyes and I see them in infancy. Those first moments. My first, floppy baby, born just a little too soon and with yellowish skin and a moderate need for oxygen. The robustness of my first daughter, with her red hair and her bright eyes, born a few days after her due date and looking like a different creature altogether than her brother had at birth.
I look at my 3-year-old and I hear the words of a nurse, "She's big!" as she enters this world. Just a half-ounce away from 10 pounds, she was big. She still is. She's tall. With big, wide eyes that get bigger with expressions of excitement, anticipation, even sadness. Her voice booms, in a 3-year-old squeaky way, as if she's talking in front of a crowd. She's big in ability and ambition. She's big in this family. And I'm betting that it won't be long after her speech ability catches up with her physical ability that she'll be picking up a guitar and teaching herself the basics.
____________________________________
Tell us about age!
(And if you need a reminder, here are the topics for the rest of the week.
Although there's really just one more day!)
Enter the link to your post below.
And please do visit as many other blogs as you can. Comment. Join in the conversation.
And hey! It's Bigger Picture Blogs Thursday! Go here to have another day of double linky fun.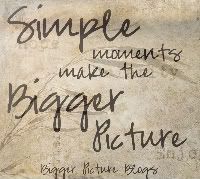 Jen Writes, motherhood, three kids